Setting the Scene for Your Video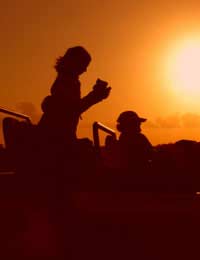 In planning your video the narrative is likely to be the main driving force in telling your story, but it's crucial that the visual and audible components help to set the scene for your audience. And, although you may intend to produce a complete script at some point, initially what's important is to come up with a plot summary to which you can add scenes later. When considering each scene, you need to think in pictures and sounds as opposed to just words so that the visual imagery and sounds can almost tell the story by itself.
Settings and Locations
Each location, whether that be a dimly lit attic, on top of a mountain or anywhere else for that matter will each exude its own atmosphere, mood and sense of light and colour and the settings you choose for each scene will each be intrinsically linked and connected to reflect the action that's taking place on the screen.
Sometimes you'll be able to choose a room or location which is ideal for a particular scene and which will perfectly capture the mood you're trying to convey whilst on other occasions, you'll have to improvise and introduce certain props and other effects to make the scene look more authentic, not forgetting that music can also play a major role in setting the scene – remember the theme music from 'Jaws'? How you light the area or the location in which you're filming a particular scene will also play an important role in setting the scene appropriately.
Background
In addition to the objects and effects you may use to enhance your scene setting, you also need to ensure that there are no background objects which will be at odds with the kind of scene you're trying to convey. For example, you might be sitting on a beautiful quayside trying to convey the peace and solitude of the area but that won't work if there are a number of speedboat enthusiasts doing 100 miles an hour over your shoulder.
Using Zoom
Using zoom or other camera techniques such as panning or tilting are also going to be needed in setting the scene correctly. For example, you might be about to shoot a scene in which you are about to buy a brand new car from a showroom. Although it would all begin with you having a conversation with the salesperson first and getting them to show you some suitable vehicles, you need to think as the audience would, In other words, YOU know you intend to buy a car but your audience probably doesn't. Therefore, to set the scene correctly, you should be looking to capture the entire forecourt and the main office of the car showroom, perhaps filmed from the other side of the road. That way, along with your narrative, the audience knows exactly what you intend to do.
Basically, you should always be looking to give your audience clues with each new scene which can either be visual or audible to give them an indication as to what might be about to occur next. They might be subtle and won't give away the next part of the story but will set the tone for the action and/or narrative that's about to take place.
Other considerations
Continuity is another key factor in scene setting. For example, you may end up shooting a scene on a particular day when it's raining and then the continuation of that scene a few day's later when it's sunny or vice versa and the weather may be intrinsic to the type of mood you're trying to convey in both scenes.
Once you come to edit your footage, however, you'll soon be made aware that the different weather for the continuation of the same scene just doesn't work so ensuring continuity is all important in setting the scene too and things like making sure you're wearing the same clothing and your hair's the same if you're shooting a continuation of the same scene on a different day is vitally important.
Basically, your choice of location, lighting, narrative, music and other sound effects will determine the mood of each scene which, if done correctly, will enable you to set the scene up effectively for your audience and make your video look more authentic and professional. And, of course, if you want to include a 'twist in the tail', you can always break some of these 'rules'.
You might also like...