Tips on Filming Your Active Toddler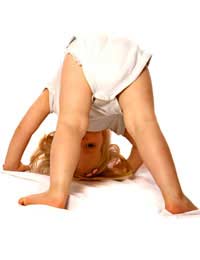 Toddlers and home video making were made for each other. Just about anything they do will be funny to watch and they are so interested in discovering new things that you'll rarely have to prompt them. However, it's always best to film them when they have been well fed and rested. If they're too tired or hungry, they'll tend to get restless and agitated.
Filming In Their Environment
You'll get even better results if you film toddlers in a location or setting which is familiar to them. This might be their bedroom, the lounge, the garden, their local park. Wherever you choose to shoot your video, they'll react more quickly and get on with their day-to-day activities more readily than if you film them in a strange place where they'd have to get accustomed to unfamiliar surroundings.
Interact With Them
The quickest way to get a spontaneous reaction from toddlers is to interact with them as you film. Better still, enlist the help of someone else to hold the camera whilst you play with and talk to your toddler. You might choose to recite some nursery rhymes and pick up one of their toys to 'sing-along' with you. Or, you may choose to play another of their favourite games or to ask them simple questions.
Fun Things to Capture
Toddlers will be fun to film on camera at most times but shooting when they're eating – especially things like spaghetti, bath times, singing and chatting with their toy animals, playing with other toddlers etc., are always good filming opportunities.
Techniques
To really capture the emotions of their faces, it'll sometimes be necessary for you to get down on your hands and knees so that the camera is situated at your toddler's eye level.
You should also encourage your toddler to move around the location where you're filming and prompt them to pick up new objects as they move about.
Have them react to other people interacting with them and encourage playful singing or chanting.
You should try to keep their body in the shot as much as possible and combine that with some good close ups of their face, especially when they are laughing, singing, talking etc.
Sometimes it's good to have someone 'translate' their toddler 'language' if they've started to learn how to speak as this will engage the viewer more.
Singing songs and playing word games or things like I-Spy is useful and blowing bubbles is also a good trick to provoke a reaction too.
Another good technique for getting toddlers to react to the camera is to flip round the LCD screen on your camcorder so they can see themselves as you're filming. Kids by nature can be very ego-centric so to see themselves in the camera's viewfinder will amuse them and encourage them to 'play up' for the camera even more.
They're also bored very easily so if you do catch them engrossed in a particular object or activity, keep the camera rolling as it will be a useful longer scene to include in your video to combine with all the relatively shorter ones.
Furthermore, toddlers tend to move around a lot and, whilst this adds to the fun of filming, if any scene you're shooting requires them to be still, sitting them up against a wall or wedging them between two cushions or pillows often helps.
Toddlers' years don't last for too long and it's amazing to capture all of their formative years on camera to see how they've developed in such a short space of time.
You might also like...