Film Your Children at Play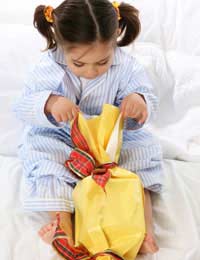 Once your children are of school age there will be plenty of home video making opportunities. Here are just a few suggestions for what you might choose to film.
Filming Opportunities
You can shoot candid footage of children playing. They might be building a snowman, playing hide and seek or they'll often 'perform' for you if you get the karaoke machine out. If they're not into show business, you can film them playing sports such as football or netball and they're bound to come up with their own spontaneous ideas when you go on holiday, so make sure to take the camcorder with you. Then, there are events like birthdays and Christmas, of course.
Sports and Stage and Filming Techniques
Ideally, you'll want to film a scene of your child in their sports kit prior to them actually starting to compete. If they've got a shirt with their name and/or number on, you should give that prominence so they'll be easy to pick out once the action starts. Obviously, positioning yourself on the edge of the playing area where it's more likely that your child will be situated most often will enable you to get better close ups of their action.
School plays are also a fun event to capture on video. However, they can often be the trickiest to film, given that the likelihood is that you're going to be stuck in the same seating position for the entire duration of the performance. A way to get around the difficulties of this is to go to two performances of the play – often there will be more than just one – and shoot the entire action on your first visit then, on your second, just keep the camera on your child. That way, you can edit in additional scenes of your child later without losing track of the story. Some of the funniest home videos are when the action is taking place on another area of the stage but you've got some wonderful footage of your child falling asleep or picking their nose, for example, oblivious to what's going on around them.
Holidays and Days Out and Filming Techniques
Whilst much of the stuff you film on holiday will be centred on specific activities the kids get up to, such as swimming or when visiting particular locations, you can invent video-friendly things for them to do.
Have them explain the route on a day trip and insert a map into your film so that viewers can follow what they are trying to explain more easily. Have them describe interesting locations on camera interspersed with footage of the scenic views themselves whilst their running commentary continues on the soundtrack. If there are other children at the day out or holiday, you might want to come up with some ideas so you can film your children competing against one another.
These days, children are becoming more familiar with amateur video making as they watch TV programmes such as 'You've Been Framed' and you'll often find they'll come up with their own ideas for filming opportunities such as dressing up the dog and playing with it in the front room or getting out Mum and Dad's old clothes and staging their own makeshift 'Hollywood blockbuster' in the back garden.
A word of caution, however. If you intend to film your children in locations where other children will be present such as in team sports, school plays, on holiday swimming etc., be sure you find out whether you have permission to film. There can be serious legal repercussions if you're caught filming children without the consent of other parents or the organisers of a particular children's event.
You might also like...