How to Conserve Camcorder Battery Power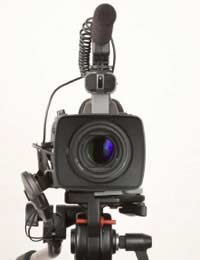 Unless you're carrying a spare battery with you, the single battery within your camcorder could run out at any time which would ruin a planned day's shooting in its entirety. Hopefully, you should have remembered to have taken along a spare battery but if you've not got one with you and you suspect that you may end up running out of battery power, there are some things you can do to preserve it a bit longer.
Make Sure It's Fully Charged In The First Place
Whilst you might think that this is a silly point given that if it had have been, you wouldn't have run out of power in the first place, many people forget that batteries lose their charge over a period of time anyway, even if the camcorder hasn't been used for a long time. So, even if you're sure that you camcorder's battery was fully charged after the last time you used it, you'll need to charge it up to its full capacity again the night before you intend using it as it will have naturally have been drained of power over a prolonged period of non-use.
Forget About Using The LCD Screen As A Monitor
If you're battery is low, the last thing you want to be doing is using its LCD screen as a monitoring/framing source. Use the viewfinder instead. Using the LCD screen in place of the viewfinder can use up more than twice the battery's power supply than using a viewfinder for the same purpose.
Minimise The Use Of Zoom And Standby
Try to keep your filming consistent, minimising the use of the zoom facility and when you've finished filming a scene, turn the camcorder completely off, not in standby or pause mode, until you're ready to shoot the next scene. Where you'd absolutely need to get a closer transition to an object, shut the camera off and walk or travel by some other means to get closer to the object if that's practical as opposed to using the zoom.
Use A Tripod For Stability
Invest in a tripod. Using the camcorder's own image stabilisation function will use additional battery power. Furthermore, even the best image stabilisation doesn't come close to the professional stability offered by a tripod, no matter how technologically advanced it is.
Using Tapes
If you have a camcorder that uses tapes, make sure you cue them to the correct point before you start shooting. Rewinding and fast forwarding tapes is one of the biggest drainers of battery energy.
Save Your Reviewing Until Later
No matter how thrilled you are with a scene you've just shot or how funny a particular scene has turned out, don't be tempted to review it there and then. Save the battery and just review the footage when you get back home or wherever you've got access to external power again and just use it for filming only and not additional playback.
Finally, try to get into the habit of always packing a spare, fully charged battery whenever you go on a shoot and, if you're on holiday, always take your mains charger and a suitable plug adapter with you if you're heading overseas and get into the habit of leaving your camcorder on charge overnight so that you'll always have a fully charged battery each day you go out filming.
You might also like...