Make the Most of Camcorder Special Features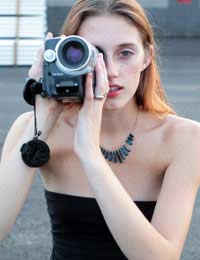 Camcorders come with a whole variety of special features and effects and the more money you pay for your camcorder the more likely it'll have more additional special features built into it. Whether you'll use all of these special features very much depends on what you intend to use your camcorder for along with how professional you want your home videos to be. Here are some examples of some of the more common special features. As you read down the list, you'll gain an understanding of which features could be useful to you and which ones you'll never have to use.
Night Vision
Some camcorders have an infrared capability which allows you to shoot video even in total darkness. This would probably only be useful to you if you're a keen wildlife enthusiast and want to capture animals going about their business at night.
Still Photos
The ability to shoot digital photographs and record moving images on one machine might be useful to those who don't want to lug two pieces of equipment around with them. Something to bear in mind, however, is the fact that many camcorder manufacturers will bump up the price of their 'dual' versatility models but, in reality, even a relatively cheap digital stills camera will take better photographs than the vast majority of cameras built into camcorders. Plus, if the one inside your camcorder is the only stills camera you have, do you really want to be hauling your camcorder around with you on occasions when all you want to take is a few photographs?
Digital Zoom
The numbers associated with both optical and digital zoom lenses can often be an influencing factor for some people when purchasing a camcorder. However, the larger of the two numbers in any camera specification belongs to the digital zoom and should really be disregarded when it comes to purchasing decisions. All digital zoom does is to make the image appear too pixillated and blocky, so ignore salespeople who try and make you pay extra simply for a digital zoom's capabilities. Instead, focus on the optical zoom number which represents how well the camera actually sees and the higher that number, the better the lens and the further away you'll get clarity on your zoom shots. High street models tend to have somewhere in the region of 12x – 25x optical zoom capability.
Microphone Connector Sockets
Although camcorders come with a built-in microphone, you may wish to plug in a far better quality external microphone and not all camcorders have them. If they do, however, are you happy to settle for a microphone which uses a mini-jack connector or do you need to opt for a camcorder which has a 3-pin XLR connector which is what you'll need if you opt for a highly specialised microphone.
Special Effects
There are also many types of special effects that are built-in to your camera. They include wipes – which wipes the scene from one side to another in order to cut to the next scene, fade-ins and fade-outs which saves you from doing this in the editing suite, sepia mode which removes the colour from a scene to be replaced by a brown antique tint. This is useful if you want to create a sense of filming an historical scene or gives the impression of events on screen happening previously. For example, it's often used to indicate flashbacks or, perhaps, to recreate events when a criminal suspect is giving their account of what happened and what did actually happen is sometimes filmed in sepia so as not to be confused with scenes which are in the 'here and now'. Other effects can include being able to put titles on your movies from your camera, although you can always do that in the editing stages.
Manual Controls
Although camcorders feature automatic focus and exposure control, once you've become familiar with shooting video, you may wish to alternate between automatic and manual control. You should try to choose a camera where the manual control rings are situated around the lens as opposed to trying to find and fiddle with tiny knobs and slider controls, which might be located on the sides of the camcorder as this can be difficult when in the middle of shooting a scene.
Future Advancements
Bluetooth ® technology has already been introduced into some camcorder models in an effort to ultimately eliminate the need for cables when you want to transfer your videos to your computer or to some other Bluetooth ® enabled device. However, the transfer of data via Bluetooth ® is still relatively slow and, as yet, it's not at all suitable as a transfer mechanism for large video files. It may well be useful in the future though.
It's well worth doing your research before spending any extra money for special features you're unlikely to ever need or which might be available through your editing software program already.
You might also like...