What Does High Definition Really Mean?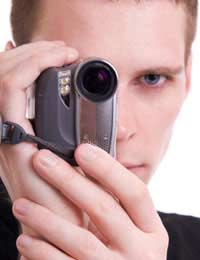 Over the past few years, the term 'high definition' or 'HD' as it's commonly abbreviated to, has become the latest 'buzz' phrase, particularly when it comes to considering buying a new television and, yes, whilst most people who have not yet got around to buying a plasma or LCD flat screen TV set as yet will have surely noticed the stark improved picture quality when they've watched a programme or film on one of the latest new TV models, it's impossible to argue against the technology. But what about making videos? Today, you can readily buy the most up to date HD camcorders but they are far more expensive and, at this time, the question must be is it really worth investing in one at this stage or might this just be a technology that, in terms of home movie making at least, is still a little ahead of its time?
Editing Concerns
HD video produces 4 times the amount of pixels that a standard definition video is capable of and it is much more heavily compressed. In turn, that means that, when it comes to editing your footage, you'll need a PC with a much greater amount of system memory storage and a graphics card that's far more capable than the ones more commonly associated with standard definition editing. Your PC will need the latest superfast processor too. Also, whilst most editing software does support HD these days, some of them don't.
Playback Issues
It's only within the last year or two that HD-DVD players have come onto the market and they are, therefore, naturally, very expensive - far outweighing the cost of a standard definition DVD player whose prices have tumbled since they were first introduced and it's yet to be truly established how successful they will become in capturing the mass market since they face fierce competition from Blu-Ray, another form of player.
It's highly possible that one of these formats for playback will succeed whilst the other could ultimately fall by the wayside, in a similar fashion to the VHS versus Betamax video format wars of a few decades ago. Therefore, until this issue is resolved, the best way of storing HD video for playback would presently seem to be to keep it on a HD enabled PC or laptop or to play your recordings on by hooking up your HD camcorder to your HDTV set.
At present, although HD camcorders are now starting to sell in a far greater volume than they were when they were first introduced, mostly due to the proliferation of HDTV sales which have rocketed especially now that prices have started to fall, there is still a questionable debate that rages on over whether the technology itself has perhaps arrived a little ahead of its time, especially with the HD-DVD versus Blu-Ray issue yet to be resolved.
However, now that the HD technology has been invented and has been taken up by all the major camcorder manufacturers, it's hard to see how it can ultimately fail. You only have to view footage which has been shot on a HD camcorder to instantly see the vast difference in improved quality between HD and non-HD camcorders, especially in the vibrancy of the colours and the quality of the audio.
So, for the real professional camcorder enthusiast, maybe it IS time to consider the conversion to HD now but the likelihood is, that to the average home movie maker, full take up within the mass market might still be a little way off just yet.
You might also like...