Types of Camcorder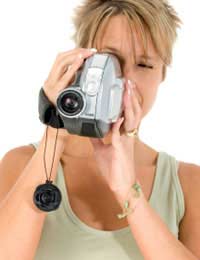 Camcorders have been around for around 35 years or so, yet have been radically transformed over this period to make them easier to use and to carry around. In fact the earliest camcorders used either VHS or Betamax tapes upon which to store the recorded images, which meant that they were almost like lugging an entire video recorder around. Thankfully, that's no longer the case.
Nevertheless some people still choose to buy analogue recorders and, if you're buying second hand, it's important to know whether the camcorder is analogue or digital, the latter being by far the most dominant type in this day and age. Therefore, this article will look at analogue as well as digital, although if you're thinking of buying a brand new camcorder from the high street or on the internet today, you're almost certain to be buying a digital model and they are far more advanced than any analogue camcorder ever was.
VHS-C
The VHS-C format was introduced in the late 80s. Based on the old and bulky VHS models, the VHS-C, as its name would suggest, was simply a shrunk down version with smaller VHS tapes which reduced the size and weight of a camcorder, yet by placing them into an adapter, they could still be viewed on a conventional VHS video player. By also being smaller, they could be used in more situations than their bulkier counterparts although the tapes could only hold around 40 minutes of footage.
8mm
The tapes used in 8mm or Hi8 format were even smaller than VHS-C yet could record for longer – up to 2 hours. In fact, they resembled audio cassette tapes in terms of their overall size, which, once again, reduced the size of the camcorder, but it was necessary to connect your VCR with the camera via a lead if you wanted to watch the video on TV.
The Advent Of Digital and MiniDV
Less than 10 years ago, analogue camcorders started to be taken over by digital ones. MiniDV became the standard and it still thrives today amidst some intense competition. Its tapes are even smaller than 8mm ones and their performance is even better. They are able to be copied more frequently without any real loss of quality and several types can store over 3 hours of footage on a single tape.
The mass consumer market has embraced MiniDV as the most popular format at present based upon its compactness and affordability, although DVD is hot on its heels.
DVD and Storing On Internal Hard Drives
There has been a relatively recent surge in popularity of DVD camcorders. Such is the overwhelming popularity of DVD players themselves, as the medium of choice upon which to view films and even record TV programmes these days, that manufacturers have designed these types of camcorder which have a built in DVD recorder, which can then be used to burn footage directly to DVD-R or DVD-RAM discs.
There are also camcorders which use either flash memory or their own hard drives upon which to store filmed footage but, without utilising external media, as is the case with the DVD and MiniDV formats, they're yet to come up with a solution in terms of the amount of footage which can be stored on the hard drive before it has to be transferred to a computer.
As a basic overview, if you're looking to buy a brand new digital camcorder now, the two most popular options are choosing between MiniDV and DVD formats – the main benefits of each being that a MiniDV is better if you're editing a lot of footage and has more flexibility whilst the DVD models make it easier to view raw footage more quickly which is great if you're more concerned with speed and ease of access of viewing your filmed footage without being overly concerned with editing it.
You might also like...