Common Mistakes With Home Videos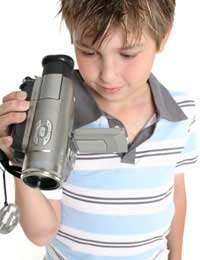 Technology has advanced so much over recent times and never more so than in the world of camcorders and videography in general and just like our plain old audio recordings of old, never are our mistakes more illustrated than in any sound and, particularly, vision recordings we might make.
Shaky Footage
We may not know it but whenever we watch a programme on TV, it might be full of action with lots of activity going on but, if we break it down into different camera shots, the one thing that becomes apparent is that it's predominantly what's on the screen that's creating the action not the person operating the camera and this is one mistake an amateur home camcorder enthusiast often fails to take on board.
By walking and filming at the same time, it inevitably causes jitters in the shots we film and entire subjects we intend capturing on film will often be completely missing from the shot to be replaced – usually by ceiling, floor and sky. A tripod, whilst not always practical, will rectify this but if there's not one to hand or if it isn't appropriate, leaning against a solid object or sitting down can reduce the chances of your film looking like it was shot during an earthquake.
Zoom Overkill
New camcorder users in particular, often get fascinated with what a zoom lens can do and, whilst a zoom has specific benefits in bringing distant subjects closer or can get up close to film very detailed elements of an object, novices can fall into the trap of 'zoom overkill'. No doubt you'll have seen a close up shot then a super fast zoom to a wider shot of the same scene then moving onto the next scene and repeating the same procedure.
Often it's the speed of the transition from panoramic to close up or vice versa that becomes annoying but many times, it becomes irritating as there seems no real logic behind the reason to pan out or zoom in. So, whilst the zoom feature is highly useful and, without it, a film would look boring, you need to be very selective as to how often you use it and make the transformation smooth and slow, holding your final position steady for a few seconds to allow the viewers time to absorb the shot and, thus, the message or image you're trying to convey. It also helps if you pause filming after the point where you've zoomed in or out then resume in normal mode from a new standpoint so as to avoid having to zoom in or out again to return to normal mode.
Use of Different Levels And Angles
If you study a professionally made TV programme closer, you'll be able to see how the cameraman films from different levels or angles. One minute you'll be observing a conversation at eye-level then, when the next person starts to speak, the camera position might be in a different position and pointed above or below their head. This technique is often used to create a dramatic effect.
For example, say you were filming an adult family member who was getting angry at one of the children, if you shoot them from below with the camera lens pointed up at them, it will make them seem bigger, more imposing or intimidating. Likewise, by filming somebody from above, it can make them seem small – often useful if they've done something stupid or have made a fool of themselves. These may seem minor details but they can make what seems to be a bog standard home video more interesting.
The Dreaded Silhouette Image
"It's behind you!" – a common phrase more associated with pantomime but can equally be related to home video making when we're talking about the sun or any artificial bright light behind the subject you're trying to film. The golden rule is that if the dominant light is situated behind the subject you have one of two options – switch positions with the subject so that the light is behind you, the camera person, or make sure you use a backlight otherwise your subject is just going to appear as a silhouette.
Check The Record Button
To avoid unwanted and unnecessary footage being shot and to conserve your battery power, get into the habit of remembering to switch off the record button once you have finished filming a scene. It sounds simple to remember but the number of people who forget to do this is staggering resulting in lots of unusable footage and it's easy to do by simply checking your viewfinder which will tell you whether you're still recording or not.
Don't Rely Too Heavily On The Automatic Pilot
Automatic features on camcorders can often make even a first-time cam user seem fairly adequate as they save time and can adjust and compensate for a person's filming skills in terms of lighting and focus…well, some of the time that is. However, filming in very dim light can confuse even the best automatic features as the lens desperately tries to search for something to focus on.
Usually, when it comes to automatic features, it's often a case of trial and error and seeing what works and what doesn't on your camera. Switching between auto focus and manual focus is just a simple process of pressing a button and the more practice you get in understanding when you should and shouldn't use automatic features; the sooner it will become second nature to you.
These are just some of the more common mistakes and you shouldn't be put off if you feel your home movies are amateurish. You'll make these and plenty of other mistakes along the way but that's part of the fun of it and, like so many other hobbies, you'll probably end up learning far more from the mistakes you make as opposed to the correct things you do.
You might also like...