Telling a Story in Your Family Video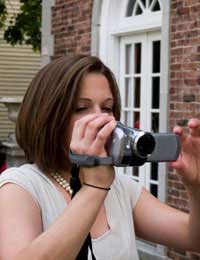 How often have you visited friends to be confronted with the 'dread and fear' of watching their latest home video offering? The chances are most of us having been put through that ritual on numerous occasions. Furthermore we've probably been the 'guilty party' ourselves at some time or another. The simple fact is that any home video should tell a 'story', even if that's in the loosest sense.
Even if we're not trying to create the next Stephen King blockbuster, it's necessary to do a little planning and to have some kind of concept of a beginning, middle and end if we don't want to bore our audience's pants off. And, unfortunately, in our desire to get our camcorders out and just continually shoot everything in site no matter how dull it is, the result can often make for a painstaking few hours of viewing, usually only enjoyed by the person who produced the movie themselves.
Planning Your Story
In making a home video, there are a few things you should aim to consider first – how you are going to enable your audience to feel a sense that they're sharing a similar experience to those who feature in the video, how you're going to capture the spirit of the video and don't forget the audience themselves – who do you intend to show your film to and what are you hoping they will take away from the experience having watched it. This is vitally important in understanding how you're going to structure your story. Adopting the right tone is a good place to start. Is your film going to be funny, silly, serious, formal, happy, sad, reflective, for example. It may end up being a combination of several of these moods.
Creating A Storyboard
A 'storyboard' is a progressive visual representation of how a story will unfold. Advertising companies frequently use storyboards to get from point A (the start) to point B (the finish) in terms of how they are visually going to get their message across but, at it's most basic level, you can compare a storyboard to a children's comic strip with a series of pictures which, either with or without words, will tell you a story quickly and one that is easily understood by all. You need to visually imagine how your story is going to start and how it will progress before reaching its natural conclusion.
The Running Commentary
A common mistake people make is to have a never-ending running commentary right the way through their film having failed to recognise that some parts of the film are so self-explanatory that no commentary is necessary. To avoid this, suitable music can often set the tone and can capture the mood and spirit of a particular section of a movie in a way in which words can never do and you can use captions and titles for other scenes to explain things that might need explanation, e.g. moving from one location to another, a different city perhaps or the date and/or time of day. On other occasions, the action itself will tell the story.
Technical Tips To Help Tell Your Story
Avoid the trap of keeping the camera rolling in the hope that something interesting will happen. Yes, for certain types of filming such as wildlife programmes, the opposite is true but, in general, if you have the camera on at all times, you'll have a harder job editing it and it's inevitable that some scenes which everyone will find boring – with the exception of those in the film – will escape the scrutiny of the editor, i.e. you, and your film is likely to end up far longer than is needed. Move around using different angles and take both above and below shots to create a mood and use both close ups and wide shots when appropriate.
How often do you hear the cameraman talking when you're watching a film at the cinema? The answer is virtually never. Therefore, why does the cameraman in home movies never seem to shut up? The point being - let the pictures and the subjects of the film, whether its people or inanimate objects, tell the story themselves, supplementing that with clever and subtle use of music.
An Example Of A Succinct Story Told
8 year old Johnny is about to play football for his local under 9s team. Capture him sleeping as his alarm goes off and his reaction when he wakes up. Include brief scenes of him having his breakfast and getting his football kit together before leaving the house. Fade out and begin the next scene with him running out onto the pitch with his team and maybe a brief scene of the manager giving the team a pep talk.
Fade out again and the next scene should feature Johnny at his finest, dribbling around several players before scoring a fantastic goal – use zoom on his legs and feet to show his incredible ball control as he cuts through the other team's defence like a knife through butter and then capture in close up his reaction and those of his team mates as the goal celebrations begin.
Film the half-time team talk in a new scene then cut to some similar ball wizardry displayed by Johnny in the second half. The final scene should focus on the referee blowing the final whistle, a wide shot of the appreciative crowd and then a shot of the manager congratulating the team and, maybe Johnny himself, for putting in a magnificent performance.
In analysing this storyboard without pictures, you'll see there's a beginning, a middle and an end. This could be condensed to less than 5 minutes of footage, yet still tells the whole story – far better than having to sit through the whole 90 minutes!
Basically, if you want to keep your viewers interested, you must always be thinking "does this scene move the story along?" If it doesn't, then it's fairly safe to say it should be edited out of the film. After all, you wouldn't want your audience yawning, would you?
You might also like...