What Makes a Good Video Diary?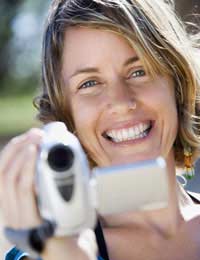 Video diaries are excellent ways of getting into making home movies in the first instance given that there are no strict rules. Neither are there any real constraints to do with angles, lighting and other things associated with making your home movie more professional. In fact, viewers tend to expect a video diary to be a little different than watching a polished home movie so they are a good format for practising and trying out new techniques. Added to that, you don't need to involve anybody else but yourself, should you choose not to, as many video diaries are both presented and filmed by the same person using either their hand or some other object (which could be anything .e.g. a table or pile of books) to hold the camera into position, although a tripod can often be useful.
Taking Your Audience On A Narrative Journey
The best video diaries should enable the audience to feel as though they're going on a journey with the person who's being filmed. It's all about capturing instantly the various emotions, thoughts and reactions to things as they occur that are often the most fascinating aspects of a video diary. Therefore, it should be as spontaneous as you can make it – this is a format where conventional rules about moving the story along or smooth transitions from scene to scene go out of the window.
What Kind Of Things To Shoot
There are no real boundaries in terms of what kind of things might be included in a video diary. The best ones are usually when someone has a real passion for a particular hobby or pastime – the more unusual or quirky the better - or those which can be extremely powerful and gripping with tension, such as those which reflect a cause or injustice you feel passionate about.
It's About The Narrative
You don't really need to worry about choosing a particular location or backdrop to your video diary. The background will simply be wherever you choose to film as it's all about your narrative, i.e. the story you wish to tell. In other words, YOU are the sole focus of the viewer's attention and whatever else might be happening on the screen is purely incidental in most cases.
Making It Seem Natural
Some people have very creative ideas as to what their video should consist of but then, if you've never filmed a video diary previously, you might find it appears unnatural to speak your mind just into a camera lens. If that's the case, you might care to get a close trusted family member or friend to act as a sounding board for you where you'll simply speak your thoughts to them and forget that the camera is rolling.
If You Want To Be A Bit More AdventurousTo give it a bit more interest, you might try cutting in occasional shots of various scenes if they are reflected in your narrative. For example, if you're talking directly to the camera about something that happened in your nearby park earlier that day, you might wish to try cutting in scenes of the park over your narrative here and there which might illustrate your story better. However, this an incidental point so you should never get too hung up on making it 'interesting to look at' as the whole point of a video diary is you and what you have to say.
You might also like...