How to Choose Background Music For Your Film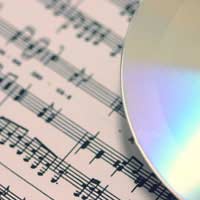 Incorporating music into a home-made film or video can not only make the end product more interesting to the viewer but it can also reflect the message or mood you're trying to convey in a particular scene(s). Most of us are predominantly used to hearing music incorporated into the likes of wedding videos for example where a poignant piece of music or song will often be included when perhaps there is no significant dialogue taking place. For example, if a scene in a video is showing the happy couple walking back out of church after they've been married, they may choose to have a piece of music inserted into that scene which is likely to be a love song or some other important piece of music that has some significance for both of them. Perhaps, music would also be included when the video incorporates photographic stills of some of the wedding snaps to enhance a montage of photo stills which have been included in the video.
Private Or Public Use
Where the whole issue of choosing music for your video or film becomes complicated, however, is if you're intending the video to be for private or public consumption. In other words, a wedding video, for example, is only likely to be viewed by the happy couple themselves and perhaps other close family members and friends. Therefore, it's not going to be a big issue if you want to incorporate a piece of music or song by your favourite artist. However, if you intend distributing a particular film to the wider public at large, whether or not it's intended for commercial and financial gain, you've got to be extra careful as then you're entering the realm of copyright issues and you could be breaking the law if you incorporate a piece of copyrighted material into your project without the express permission from both the artist(s) or their management and, where different, the company which owns the publishing rights to the material.
In the UK, for example, the main organisations you'll need to contact in the first instance are the MCPS-PRS Alliance and PPL (Phonographic Performance Limited). Depending on how you intend to use the music, you may also be liable to pay for the privilege. Of course, in certain cases, you may choose to contact a performer direct and see if they can give you express permission to use the material but this is usually only likely if you're talking about smaller, independent artists who own both performing and publishing rights. Of course, you might know a musician(s) who might be prepared to compose a piece of music for you especially or there are resources online which allow you to use certain musical works for free. However, it's important you do your homework first and ensure that you're legally entitled to use any music you're thinking of putting into your film, especially if it's to be distributed widely and/or you are making the film with the intention of making some kind of financial gain out of it.
Effective Ways Of Using Music
Incorporating appropriate music into a film at the right time, even an amateur production, is often a knack that some people possess and for newcomers to the process, it can often be a case of trial and error and experimenting with your film making software to see what works and what doesn't. As well as enhancing the mood or capturing the emotion of a particular scene, music in videos can also be used to reinforce a particular message. In fact, you'll come across this on a daily basis when you watch TV adverts and it is often very effective when used appropriately in promotional corporate video productions, for example, in a film for a new product launch.
The key thing as a filmmaker to remember, however, is to not simply use music just as an additional token tool because if not carefully thought through, it can actually ruin a film or simply not convey the message or feeling you're trying to put across to the audience.
You might also like...