Fixing DVD Burn Errors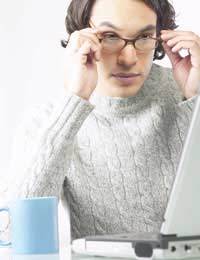 Most of the problems surrounding burning errors on DVDs tend to come from the lack of knowledge of the person carrying out the burn process. A DVD is a lot more complex than a CD with so many different types of formats – DVD-R, DVD-RW, DVD+R, DVD-ROM, DVD-RAM and DVD+RW and it's important that the computer or separate burning device is compatible with the disks that you're using as some support all formats and some don't.
Is It Possible To Fix The Error After I've Attempted To Burn A DVD?
If you've started the process of burning, you'll usually hear the burner's driver start whirring as it attempts to begin the process. The chances of you fixing the error and trying again if you get an error message is often dependent on the type of DVD you're using. Basically, any DVD that has the letter 'R' only at the end indicates that it's only able to be written (recorded) on once. So, basically, that means that once you've burned something onto it, it stays on there and can't be recorded over.
Subsequently, if the process of burning has started on one of these disks and you get an error message, then, to all intents and purposes, that blank DVD might as well be chucked in the bin as no further burn attempt is likely to be possible. If, however, your disk ends with the letters 'RW', this means that it's a 'rewritable' disk. Therefore, much in the same manner as CD-RWs and, in previous times, videocassette tapes (VHS), you can erase the data you've recorded onto the DVD-RW and begin again.
Unlike tape, however, the data on the disk needs to be erased first and can't simply be recorded over. Therefore, in the event of an error occurring due to a burn failure, there's every chance of you deleting whatever data had so far been burned to the DVD, and then to try all over again. That said, however, disks aren't infallible and even an error during a burn to a DVD-RW might be repeated again, simply due to the fact that the disk itself is faulty or damaged in some way or there is something wrong with the burner itself, either temporarily or permanently.
The key is to try to understand how the burning process works to avoid the amount of burn errors you have. Fortunately, blank DVD media is not that expensive so, for most people, it's often not worth the hassle of trying to repair or fix a burn error but simply to throw the DVD away and start again with a new one.
Test Burns
Most burning software will give you the option to perform a test burn first. Although this takes a little longer than committing the burn to disk immediately, it can help in pointing out errors before any burning has taken place so if you don't want your bin to be stuffed with useless blank, failed DVDs, it's often better to perform a test burn first. If the indications are that it works fine, then commit to burn for real once it tells you the test burn has been successful. It won't necessarily guarantee a 100% success rate for the final burn but it will reduce the number of blank disks you end up throwing away.
Don't Use The Computer For Other Things Whilst Burning
One of the most common reasons for DVD burning failures is that people who use computers are often doing other things on them simultaneously. They might be writing an e-mail and surfing the web whilst also chatting to friends on their messenger service and all this is going on whilst they've already clicked 'commit to burn' on their DVD burner. In effect, you're asking your PC's processor to do so many things simultaneously that the likelihood is it won't be able handle it all completely effectively all at once and that can be one of the most common reasons why burns fail.
Therefore, when you want to burn a DVD, close all your other windows and any other applications that are running and just get on with the task of burning for the time being. With nothing else to worry about, the chances are that the burner will perform with more stability and the process will be far quicker and more successful. And…if you simply can't bear the thought of watching the little green progress bar slither slowly towards 100% completion, just leave it to be until it's completed and go and read a book or watch TV instead until it has finished the burning process.
You might also like...