Photo Capture From DVD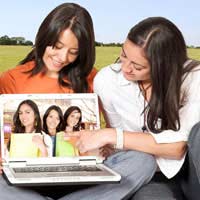 More often than not videos capture far more spontaneous moments than still photos can do. You've probably got old videotaped footage of a holiday, for example, where you'll come across a scene and wish you could have simply captured a particular second on the tape which would have made for a perfect photo. Well, with DVD and almost any other kind of media file - you can. There are numerous ways you can do this but the quickest and most simple is to use a software application called VLC Player which you can download for free from the internet.
Using the VLC Player
Once you've downloaded the software and launched it, you need to click on 'File > Open Disc. Then choose your DVD player from the dropdown menu and your DVD disk should automatically start playing within the VLC Player. Scroll through the video until you reach the point at which you want to capture a still photo and then click on pause on the VLC Player.
From there, once you're satisfied that the paused shot you have in your viewer is the correct shot to capture, go to the Video tab and click on 'Snapshot'. If you then go to your folder entitled 'My Pictures', you'll see a photo image with a .PNG suffix beginning with 'vlcsnap'. Obviously, you can re-title that, but basically, you'll have captured the selected clip of the video and reformulated that into a photographic image.
Distortion
Sometimes you may notice some element of distortion in the image. This can happen in situations where you've paused the DVD when there's fast motion taking place. Examples might include a football having been kicked which might appear blurred or appear to have a tail of a comet at the end, or a blurred image of a hand if it's playing a guitar very quickly. This is easily resolved and the process of doing that is called 'De-Interlacing'.
De-interlacing
You need to open up a program you have on your computer for manipulating images. A lot of PCs these days come with Adobe Photoshop already installed on them, so let's use that as an example.
Once you've launched the program, click on File > Open then select the file that's been captured by the VLC Player from your 'My Pictures' folder. Once it appears in Adobe Photoshop, select Filter and from the drop down menu, scroll down to Video. Once you've highlighted that you'll be given an option to 'De-Interlace' – another box will open, just click on OK and there you have it - no blurred image. You can then manipulate the result using Photoshop's tools if you need to, just as you can with any other photo image. Using Adobe Photoshop, you can then save this file to the appropriate folder.
Other File Extensions
If you need to convert your image to another picture file format such as JPEG, BMP or TIF, there are other free software programmes you can use for that.
You don't even have to have a DVD inserted to capture still photos. The VLC Player even captures stills from files of home videos that you still have kept on your computer. So, instead of 'File > Open Disc (as outlined in the 2nd paragraph), you simply click on 'File > Open from where you can browse any of your video clips sitting on your PC as MPEG or AVI files and then follow the same procedure.
Capturing photos from a DVD is a great way to get still images of candid shots which you'd probably miss if you were simply shooting at random. It's a great tool for, say, capturing pictures of a toddler when you're hoping to get some great photographs. No doubt, you'll have cursed on several occasions when you've clicked your digital camera's shutter just a moment after they've done something hilarious. By videoing the action instead, you can review it later then pinpoint the exact spot at which you can capture the photo.
And, on a more serious note for dedicated movie makers, you can also use these stills to print up promotional posters or to use on blogs etc. to publicise your film.
You might also like...