What is In Camera Editing?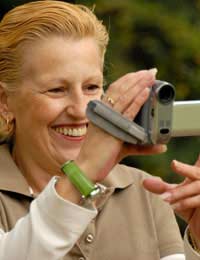 'In Camera Editing' isn't really 'editing' at all but it's real 'flying by the seat of your pants' stuff with absolutely no margin for error.
If It's Not Editing What Is It?
It simply involves shooting the scenes of your film in the exact sequence they are going to appear in the finished video without any kind of room for error and with no editing wizardry or gimmicks. No computers, no editing software, no cables…nothing – just you and your camcorder. Each scene must run in order and the length of each scene must be as you intend it to be at the end of filming so that, by the time all of your scenes have been shot, you're left with a completely finished video running from start to finish.
When Is It Used Most Successfully?
In-camera editing is more successful when you're filming an event that happens to follow a particular sequence anyway. For example, a sports event can all be filmed this way as it follows a sequence from beginning to end – first half, second half etc. The problems associated with in-camera editing occur when you have people appearing in scenes and it's time for them to film a scene but they're not available. Therefore, unlike conventional film editing where, if someone's absent, you can go back and shoot their scenes later, with in-camera editing, you'd have to wait until they were available before you could shoot your next scene.
Planning Is Crucial
Planning your scenes is never more important than when you're adopting the in-camera editing method. You'll need to visualise and write down each scene specifically in the order in which they'll occur from the very beginning to the very end.
Recording
Most cameras these days will allow you to fade up from black and this is going to signal your first scene. Once that's down on tape, pause or stop the camcorder then set up the second scene, then start shooting again. This procedure must be repeated through every corresponding scene in order until you reach the end.
Things to Watch Out For
As you become more proficient and more confident about shooting this way, you'll simply stop the camera at the end of one scene then set up and start shooting the next one. But, when you're learning, the temptation is to check each scene is fine before filming the next one. This is understandable as once you've shot another scene after, you can't go back to the first scene to film it again or eliminate any of the errors so, if you do want to review each scene as you go if you're starting out with this technique, make sure you cue the tape right to the point of where your last scene ends or else you'll end up with a gap of 'snow' between scenes or you may end up chopping a section from your previous scene.
It's a very tricky and disciplined skill to master and can really get the adrenalin pumping, but you might be surprised to learn that many novice film makers become very proficient at it as they might not be technically adept or simply can't be bothered editing all of their filmed footage at the end of the shoot. Therefore, their only hope of producing a credible video is to use in-camera editing and it's the constant practice that makes them good at it. It is, however, a very good technique to learn and, done well, it can help you make watchable movies very quickly.
You might also like...