Advanced Editing for Your Home Video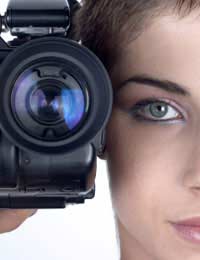 Once you are familiar with the basic skills needed to edit your home video you may wish to make your videos look even more professional by using more advanced editing skills, often adopted by professional film makers. Here are a few tips which you may wish to consider using.
Establishing Shots
Every TV programme and every film that we see begins with an establishing shot. This is usually a shot from long range, zoomed out to give the viewer a sense of where the action is about to take place.
Even TV news programmes often use this type of shot in which you can see the newscaster behind the desk at the same time as much of the rest of the studio and, sometimes, you can even see other cameras that are being used on the broadcast. This prepares the audience for the cut to the close up shot of the presenter that will signal the moment that they start reading the news bulletin.
The establishing shot is well-used to provide the audience with a sense of understanding the context but, occasionally, this 'rule' is flouted and can be particularly successful in a humorous, or dramatic situation. An example would be where the scene begins with a close-up of a person's face who is looking terrified and screaming then all of a sudden the picture zooms out and simultaneously flips over to reveal that the person is tied to a bungee cord and has just jumped off a cliff.
Cutaways and Cut-ins
Cutaways are often used to cover up mistakes yet they can also provide variety. Take an interview with an expert who is talking about global warming at the North Pole. The interview may start with him being featured in close-up voicing his opinions when, all of a sudden he loses track of what he's saying and starts to stutter or go off on a different tangent before regaining his composure and continuing. You're obviously not going to want to include the section whilst he's stuttering to remember what he wanted to say so you could edit out the audible stuttering part and replace him in vision by cutting to some library footage of a scene of polar bears struggling to survive on the thin ice whilst the rest of his views (after the bit where he's lost track) run underneath the filmed footage. Then you can cut back to him in close-up for his final few words on the subject.
Cut-ins are also useful in that they often help to better establish what somebody is talking about in order to inform the audience better. Cookery programmes often use this technique whereby you'll have a close up of the cook describing what he's about to do which will be regularly interspersed with a close up of the food and equipment he's working with. In other words, we can see exactly what his hands are doing.
Reaction Shots
Reaction shots are so common in TV programmes and films that we take them very much for granted. They often depict a character apparently looking at something then the scene cuts to what he's apparently looking at (the cutaway shot) then back to a close up of the character to see his reaction.
In trying to capture reactions, which is what the purpose of a home video often sets out to do, they are often easily identifiable as home videos as the cameraperson will more often than not use a panning effect from the character to what they're staring at and then panning back again to gauge their reaction but this amateur technique is one which many novices don't realise has an effect of motion sickness on the audience as the camera pans back and forth. Therefore, by editing out the pans, you get to quickly see the subject looking in a particular direction, then a cut to the object they're looking at then cutting straight back to the subject to instantaneously gauge their reaction.
A child looking up at fireworks exploding in the night sky is a useful analogy. You should have the child in close up looking up into the sky in anticipation then cut to the firework exploding in the sky then cut again to the child's reaction – i.e. no panning involved.
Parallel Cutting
This technique is more frequently used in films when you want to create some kind of dramatic effect. It involves showing two action scenes simultaneously and cutting back and forth between the two.
A good example would be in the film 'The Shining' where the scenes cut between Jack Nicholson's character on one side of the locked bathroom door trying to force his way in with an axe whilst cutting to the inside of the bathroom itself where his wife is frantically trying to make an escape. The two scenes cut back and forth which serves to increase the tension until the point at which the axe breaks the door panel and Jack Nicholson's head pops through one of the broken panels to utter his famous haunting line, "Here's Johnny!"
This technique can also be used when making a family video and can be very effective and often funny when used appropriately. A good example might be where someone is making a speech at a wedding ceremony whilst one of the children attending has found themselves underneath the table on their hands and knees scurrying around the legs of the guests. The humour of that coupled with the more serious nature of the speech will be even funnier if you use parallel cutting to move back and forth between the two scenes.
Advanced editing skills such as these can add to the drama and amusement of a family home video and, once you've mastered the basics of editing, it's useful to learn new tricks and tips to maintain your audience's interest.
You might also like...