Home Editing Software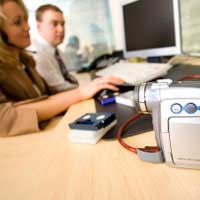 Video editing software is a pre-requisite if you're looking to turn all of your filmed footage into a shorter cohesive video, which looks decent. You can edit out any unwanted footage, add titles and other effects and it basically allows you to clean up your video so that it tells a chronological story to the viewer, as opposed to it simply being a mass of film running in no particular order. At the top end of the market, video editing software can be expensive.
However, the good news is that if you're just starting out, you may not have realised that your computer is likely to already have video editing software installed on it already. On new PCs, the programme is called Windows Movie Maker and for Macs, it's iMovie. If you don't have either of these preinstalled, you can download them for free and they're the most useful tools for experimenting with video editing if you're unfamiliar to the process. For some people, either of these editing software tools will be perfectly adequate for what you're trying to achieve. For the more ambitious, however, you can spend a lot more.
More Expensive Options
Avid, Final Cut Pro and Adobe Premiere are three of the more popular video editing software tools. They can cost anywhere from £150 up to and above £1000 depending on what software you choose to purchase so you should be really sure that you need the additional capabilities offered by these tools before splashing out.
Free Downloads
There are numerous legitimate sites where you can download additional pieces of software to add on to your Windows Movie Maker or iMovie which will give you even more editing scope which include additional audio, visual and graphics effects. As for the top end of the market, you can also download trial versions before you commit to buy. This is very useful as you'll be able to evaluate these for free to determine whether or not you really do need to invest in more expensive software for your specific project.
Technical Support
No matter how proficient you think you are at video editing, it's inevitable that you'll run into some problems at some stage which even the manual won't be able to help you with. So, before committing yourself to any purchase, you need to find out what kind of online and/or telephone support is available should you run into difficulties and how much it costs to obtain that support.
Other Support Sources
If you've decided that you do need more advanced editing software which you're going to have to pay for, the best thing to do is to try out a few of the trial versions and to make comparisons. In the event that you're still not sure of the way to go, there are a whole raft of video and home movie forums where you can post questions and seek advice and, based upon what you're trying to achieve, there'll be a number of 'experts' who are only too willing to offer you advice and point you in the right direction.
You might also like...